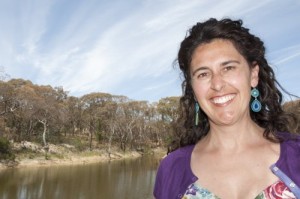 Jacqui Bohuslav-Andrews
Jacqui is a yoga teacher of nearly 20 years, originally studied hatha yoga at Melbourne's Gita International Yoga School. Led by curiosity and self-inquiry, she completed post-graduate qualifications in Mindfulness Based Stillness Meditation (MBSM), traditional Yogic Meditation, Progressive Yoga Relaxation and Esoteric Philosophy. Today her teaching reflects her combined formal education, her life experience, her love of yoga and the self-discovery that emerges with this practice.
Her interest in yoga began in her late teens, when her parents enrolled her family in Transcendental Meditation classes. She completed an arts degree in criminology and worked in a corporate environment before pain and headaches from being desk-bound drove her to seek a chiropractor's help. He advised her to "go and explore yoga". So she did, discovering physical comfort, heightened energy levels and clarity of mind.
"I remember thinking that the feeling yoga gave me was so incredibly good that I wanted to have that feeling every day of my life, not just once a week after yoga class!"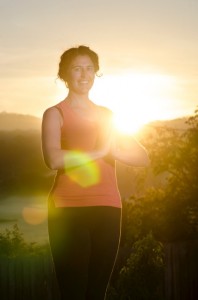 Today Jacqui offers classes, intensives & weekend yoga retreats in the gentle, quiet space at Over the Moon Yoga and Dance Studios, in Castlemaine, central Victoria. She frequently shares Mindfulness Meditation programs in corporate environments in both Melbourne and Sydney. Rejuventating Yoga retreats in Bali are also offered.
She continues to deepen her understanding of yoga & meditation via courses at the Gita International Yoga School and  studies weekly with Swamini Vinayananda from the Chinmaya Mission. Occasional studies with Swami Govindananda from the Sivananda tradition and time spent at the Ian Gawler Yarra Valley Living Centre have also enriched her teaching.
She welcomes newcomers to yoga, regardless of their flexibility levels, as well as experienced yoga practitioners seeking to deepen their physical and spiritual practise with others.
---

Neriman Kemal
Neriman Kemal has been practicing yoga on and off for about 10 years, though has been taking it more seriously over the last few. A great fan of the benefits and practices of meditation, pranayama and the asanas, Neriman's approach to teaching yoga is one of encouragement, joy and gratitude.  She is a graduate of both Levels 1 & 2 Purna Yoga (Byron Yoga Centre). As well as teaching yoga, Neriman currently works in rural, regional and remote community philanthropy, and has an extensive communications background. She has also been vegan for 15 years, very much appreciating the yogic practice of Ahimsa, or non-violence.
Neriman is delighted to teach the Sunday 10am yoga class.
Neriman can be contacted via neriman@yogaharmony.com.au  |  0409 939 799
(please note Neriman lives out of town and doesn't always have mobile phone reception).
---
Deb Lisyak
Deb has been practicing yoga and meditation since 1984 and is trained in both the Iyengar and Anusara traditions of yoga.  She comes from a teaching background in the performing arts, theatre, dance & circus and now specialises in therapeutic and restorative yoga.
Deb is a highly skilled and experienced therapeutic practitioner of yoga.  As well as teaching a Restorative/Therapeutic yoga class on Tuesday mornings (11:30am) and a dynamic general level class on Wednesday mornings (11am), Deb also offers private 1:1 yoga sessions & small/semi-private yoga classes.
If you are interested in a semi-private class or private 1:1 sessions, please contact Deb directly on 0419 815 689 or email insightdeb@gmail.com