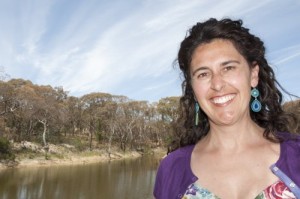 Jacqueline Bohuslav-Andrews – Founder

Jacqueline, a yoga teacher of 20 years, originally studied hatha yoga at Melbourne's Gita International Yoga School. Led by curiosity and self-inquiry, she completed post-graduate qualifications in Mindfulness Based Stillness Meditation (MBSM), traditional Yogic Meditation, Progressive Yoga Relaxation and Esoteric Philosophy. Today her teaching reflects her combined formal education, her life experience, her love of yoga and the self-discovery that emerges with this practice.
Having taught yoga in Castlemaine & Melbourne for the past 15 years, Jacqueline lives in Melbourne with her family and offers Mindfulness training programs in workplaces through her business: Lógos – Mindfulness at Work: www.mindfulness.melbourne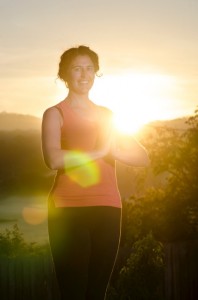 Jacqueline continues to deepen her understanding of yoga & meditation via courses at the Gita International Yoga School and  studies with Swamini Vinayananda from the Chinmaya Mission. Occasional studies with Swami Govindananda from the Sivananda tradition and time spent at the Ian Gawler Yarra Valley Living Centre have also enriched her teaching. At present, she is enjoying delving further into the Krishnamacharya approach to yoga, learning from Vedic chant teacher trainer Debby Badger.
---
Neriman Kemal

Neriman Kemal has been practicing yoga on and off for about 10 years, though has been taking it more seriously over the last few. A great fan of the benefits and practices of meditation, pranayama and the asanas, Neriman's approach to teaching yoga is one of encouragement, joy and gratitude.  She is a graduate of both Levels 1 & 2 Purna Yoga (Byron Yoga Centre). As well as teaching yoga, Neriman currently works in rural, regional and remote community philanthropy, and has an extensive communications background. She has also been vegan for 15 years, very much appreciating the yogic practice of Ahimsa, or non-violence.
Neriman is delighted to teach the Saturday 7:15am and Sunday 10am yoga classes.
Neriman can be contacted via nerimanpr@gmail.com  |  0409 939 799
(please note Neriman lives out of town and doesn't always have mobile phone reception).
---
Deb Lisyak
Deb has been practicing yoga and meditation since 1984 and is trained and Certified  in both the Iyengar and Anusara traditions of yoga.  She comes from a teaching background in the performing arts, theatre, dance & circus and she brings this playfulness and joy into her classes.
Deb is also Certified in Therapeutic and Restorative yoga under Judith Hanson Lassater, Lizzie Lassater & Mary Richards.   As well as teaching group classes Deb also specialises in private 1:1 yoga sessions & small/semi-private yoga classes.
If you are interested in a semi-private class or private 1:1 sessions, please contact Deb directly on 0419 815 689 or email insightdeb@gmail.com
---
Grace Nicol
Grace started practicing yoga around 25 years ago. Initially drawn to yoga as a physical activity, she soon discovered that yoga leads to a broader sense of self-discovery through a range of practices that focus on the breath, meditation and philosophy as well as the asanas.
Grace's journey has drawn her to practice a range of yoga forms and approaches. Grace has completed formal studies at the Australian College of Classical Yoga, with the respected AG and Indra Mohan (India) and is currently extending her knowledge by studying at the Australasian Yoga Institute.
Her aim is to allow a gentle exploration of the interplay between strength and flexibility, the need for stillness and movement and the importance of the breath – the delicious inhales and exhales that underpin every aspect of yoga.
Those who attend are encouraged to allow themselves to let go of ideas of perfection and to truly focus on what they need in that moment, at that time.  A yoga session really is a time to honour your self.
Grace can be contacted on movewithgrace@hotmail.com | 0407 549 499.
---
Iris Amalin Fischer
Iris has been practicing Yoga for more than 26 years. She first started "working" with her body in her late teens when she studied Tap-Dance, Acrobatics and Tight-rope walking at DIE ETAGE in Berlin, Germany. Her search naturally developed into exploring the deeper aspect of the body mind relationship, bringing her to Yoga.
Iris has an established daily Yoga practice. She brings to the classes her experience, passion and commitment to Yoga.  Iris has been running Yoga courses in Melbourne, Malmsbury and Kyneton for the last 10 years. She has taught private Yoga courses; classes in the Youth Justice System, Meditation classes at the State Library of Victoria and individual tailored one to one sessions.
Iris can be contacted on irisamalinleduc@gmail.com  | 0419 110 125 or you can view her YogaAustralia profile here.
---
Kimberley Craig
Local educator Kimberley Craig has been a yoga student for some 20 years, and after completing her teaching studies last year is excited to share her skills and passion for this subject. Weaving yoga philosophy and mindfulness into a steady Hatha flow style, Kimberley's aim is to provide a class that offers an opportunity for integration, strength, and connection.
Join her on Monday evenings if you can!
For further information, contact Kimberley: saidorpma@gmail.com  |  0437 684 673