We hope to be able to return to Ubud, Bali when the world once again opens for international travel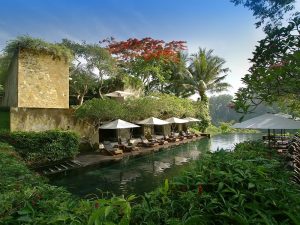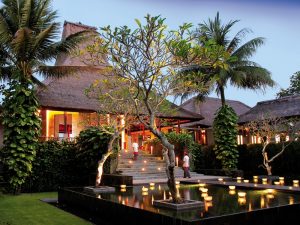 Nestled alongside the Petanu River in the mountains of Ubud, is Maya Resort & Spa.
Join Jacqui Bohuslav-Andrews for a 7 day / 6 night Bali Yoga Retreat in this delightful location, to replenish, re-vitalise and renew! We will enjoy daily yoga, meditation and relaxation practices, philosophical discussions and plenty of time to rest and simply 'be'.
Maya is a 5 star luxury resort built upon a ten hectare property. Neighbours are a distant din away and the resort takes in valley views to one side and rustic rice fields to the other. The buildings follow the natural contours of the land and diverge off a 'ceremonial spine' – a walkway which culminates in a large, ceremonial viewing platform taking in magnificent views. Stepping into Maya is like stepping into another time and place. It is so special and deeply restorative, you may never want to leave!
"This is a fabulous opportunity to grab with both hands… It'll certainly be part of my world each year"
"Jacqui's yoga retreat at Maya Ubud was a perfect combination of good company, great yoga and other classes, wonderful food and a stunning location. I can't imagine a better holiday"
"What a fantastic experience! The lush surrounds of Maya Resort in Ubud, Bali are the perfect location to relax and enjoy Jacqui's yoga classes. As a beginner yogi, the classes offered options for what suited every body and Jacqui supported us with what our bodies could do. It was a wonderful retreat with fantastic people in the most beautiful location!"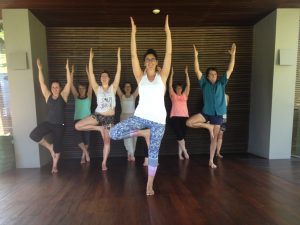 We will enjoy our daily yoga in the purpose-built Yoga Pavilion. It is a large, open-aired space with magnificent views. Peace and tranquility are everywhere. There will be time each day to indulge in massage and spa treatments, visit the local markets, lounge by the pool or simply rest in your own preferred manner.
Within the lush, peaceful surrounds of this incredible place, we will have the opportunity to let go of things which hold us back, allowing us to live life in a more full, authentic and expressive fashion.