Yoga, Mindfulness & Nutrition
Sunday 7th January – Torquay
Venue: Freshwater Creek Steiner School
52 McIntyres Rd, Freshwater Creek
9am – 4pm
$140 (includes morning tea and lunch)
Join Jacqui Bohuslav-Andrews (Yoga & Meditation teacher) and Edwina Murphy-Droomer (Naturopath & Nutritionist) for a day of inspiring yoga, mindfulness and nutritional learnings.
Booking can be made via the registration form.
An invoice will then be sent with banking details attached.
---
Workshop Classes ~ Deb Lisyak
7, 14 & 21 November 2017
9:30-10:45am
Join Deb Lisyak – therepeutic yoga specialist – for 3 workshop classes.
7 Nov – Spine and back care
14 Nov – Shoulder releases
21 Nov – Hip opening poses
These sessions will include adapting poses to accommodate injuries or tightness in a specific area.
$20 per session.  For bookings contact jacqui@yogaharmony.com.au
---
Breath-based Yoga workshop
Sunday 12 Nov 2017
1-4pm

Join Jacqui for a 3 hour workshop exploring a breath-led yoga practice.  Breath-led practices have great capacity to allow us to energise and deeply re-centre.
Cost/$50
Bookings: jacqui@yogaharmony.com.au
---
Yoga, Mindfulness & Nutrition
Sunday 21 May
9-4pm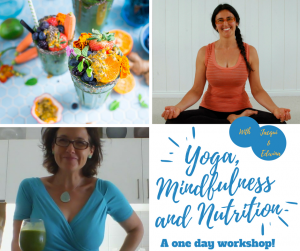 Join functional nutritionist Edwina Murphy-Droomer from Eudaimonia and yoga teacher Jacqui Bohuslav-Andrews for a day of yoga, mindfulness and nutritional health. Exploring ways to balance body and mind, we will look at how exceptional nutrition can improve gut health, immunity, inflammation, energy levels and more. Our aim is for you to feel empowered with easy to implement daily steps to lay the foundation for optimal health and well-being. Let's eat and exercise well in order that we can truly flourish and live the life nature intended!
Cost /$140
Includes delicious morning tea & lunch
Bookings: jacqui@yogaharmony.com.au
---
Movie: What's with Wheat
Saturday 20 May
7-9pm
THE STORY OF WHEAT IS THE STORY OF FOOD.
Tens of thousands of people are suffering with ill health and don't realise it's a result of the food choices they are making. They often assume it is part of their genetic make-up or the fact of just getting older. People need to become educated, knowledgeable and aware. They need to start making changes to improve the health of their children and future generations. A must watch for anyone who is concerned about the foods they consume or may have any kind of health concerns. Wheat can certainly be the issue for many.
Cost:
$20 /or free for those attending the Yoga, mindfulness and nutrition workshop on 21 May
Bookings available via Eventbrite