YOGA NIDRA 3 CLASS SERIES
Sun 1, 8 & 15 March
$60/$50 conc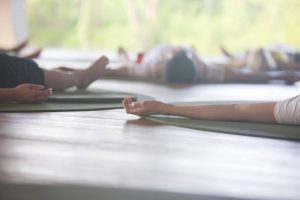 Yoga Nidra is a deep relaxation practice, experienced lying down. In these classes we spend 20 minutes practising very gentle asanas (body postures), before we assume a comfortable lying down (or seated) position and are led in a guided meditation that uses body, mind and breath techniques to deeply restore the body-mind.  For more info or to book contact Neriman via nerimanpr@gmail.com or 0409 939 799
---
Restorative Yoga Workshop
Sundays:
22 March 2020
3:30-5:30pm   |  $40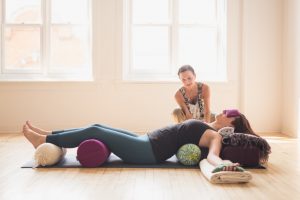 Restorative Yoga is a passive and mentally quietening  practice that is deeply calming to the nervous system, relaxing to the body and nurturing to the emotions. We use bolsters, blankets, blocks and other equipment to support the body in various deeply nurturing poses.  We will practice Pranayama (yogic breath) and Meditation techniques, to refresh the mind/body connection and develop mindfulness.  The pace of each session is slow and sweet and provides you with a safe space to reconnect with your true nature.  Restorative Yoga is suitable for everybody, even those with no yoga experience. After this beautiful practice you will leave with deep feelings of tranquility, harmony and connection between your body, mind, breath and emotions.
All welcome, all equipment provided.
Bookings essential.  Email insightdeb@gmail.com  |  0419 815 689 and you will be sent an invoice for payment.
---
3 day Chill-out Restorative Intensive
January 2nd, 3rd & 4th, 2019
4:00-5.30pm each day
Cost $90
Relax into the New Year.  Three afternoons of Restorative yoga to help you recover from the Christmas and New Year celebrations.  We will move slowly and nurture more deeply each day.  Face 2019 feeling refreshed, revitalised and deeply rested.
These workshops are highly recommended for anyone wishing to deeply relax, regardless of previous yoga experience.
Bookings essential:  Contact Deb Lisyak:  insigtdeb@gmail.com
---
Summer 2019 – Early morning Yoga Intensive
with Neriman Kemal and Deb Lisyak
Monday 7 — Friday 11 January 2019
6:00-7:30am
$120
Join Neriman and Deb as we together welcome the new year with five mornings of nurturing, life-affirming yoga classes. The Intensive will combine poses, meditation, pranayama, nidra and lots of joy and smiles along the way.
Bookings Essential:  To book please email Neriman at: nerimanpr@gmail.com – or Deb – insightdeb@gmail.com
This will be a co-led Intensive – double the enthusiasm!
These early morning Intensives book quickly, particularly in summer. Upon registering you will be invoiced for payment.  
---
Summer Yoga Workshop
Saturday 13 Jan 2019
9-12 midday  |  $50
Join Jacqui Bohuslav-Andrews for a 3 hour yoga workshop to set the tone & intentions for your new year!
We will enjoy yoga, pranayama (breathing practices), meditation, relaxation & discussion with like-minded folk.
Morning tea is included.
This practice is suitable for all ages/levels/abilities.
Bookings essential: jacqui@yogaharmony.com.au  |  0417 307 332
---
Yoga, Mindfulness & Nutrition
Sunday 7th January 2019 – Torquay
Venue: Freshwater Creek Steiner School
52 McIntyres Rd, Freshwater Creek
9am – 4pm
$140 (includes morning tea and lunch)
Join Jacqui Bohuslav-Andrews (Yoga & Meditation teacher) and Edwina Murphy-Droomer (Naturopath & Nutritionist) for a day of inspiring yoga, mindfulness and nutritional learnings.
Booking can be made via the registration form.
An invoice will then be sent with banking details attached.
---
Workshop Classes ~ Deb Lisyak
7, 14 & 21 November 2017
9:30-10:45am
Join Deb Lisyak – therepeutic yoga specialist – for 3 workshop classes.
7 Nov – Spine and back care
14 Nov – Shoulder releases
21 Nov – Hip opening poses
These sessions will include adapting poses to accommodate injuries or tightness in a specific area.
$20 per session.  For bookings contact jacqui@yogaharmony.com.au
---
Breath-based Yoga workshop
Sunday 12 Nov 2017
1-4pm

Join Jacqui for a 3 hour workshop exploring a breath-led yoga practice.  Breath-led practices have great capacity to allow us to energise and deeply re-centre.
Cost/$50
Bookings: jacqui@yogaharmony.com.au
---
Yoga, Mindfulness & Nutrition
Sunday 21 May 2017
9-4pm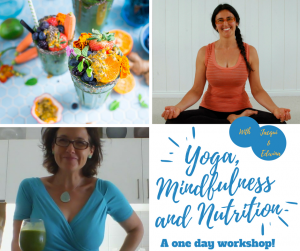 Join functional nutritionist Edwina Murphy-Droomer from Eudaimonia and yoga teacher Jacqui Bohuslav-Andrews for a day of yoga, mindfulness and nutritional health. Exploring ways to balance body and mind, we will look at how exceptional nutrition can improve gut health, immunity, inflammation, energy levels and more. Our aim is for you to feel empowered with easy to implement daily steps to lay the foundation for optimal health and well-being. Let's eat and exercise well in order that we can truly flourish and live the life nature intended!
Cost /$140
Includes delicious morning tea & lunch
Bookings: jacqui@yogaharmony.com.au
---
Movie: What's with Wheat
Saturday 20 May 2017
7-9pm
THE STORY OF WHEAT IS THE STORY OF FOOD.
Tens of thousands of people are suffering with ill health and don't realise it's a result of the food choices they are making. They often assume it is part of their genetic make-up or the fact of just getting older. People need to become educated, knowledgeable and aware. They need to start making changes to improve the health of their children and future generations. A must watch for anyone who is concerned about the foods they consume or may have any kind of health concerns. Wheat can certainly be the issue for many.
Cost:
$20 /or free for those attending the Yoga, mindfulness and nutrition workshop on 21 May
Bookings available via Eventbrite